We are excited to show off the new website that we just completed for Referrals4Success, a networking group that chose to work with us to expand their online presence and strategy. The site is an exclusive directory of trusted reliable businesses. Anyone can apply for membership. It's free to join, but you must be referred by a member (with a referral code) or get recommended by another business to be accepted. So, it's a good thing you know us!
First, we created a fresh new logo to represent the Referrals4Success brand. They previously sported the puzzle theme, but we simplified it and gave it a new spin. The logo is used well beyond the website into their collateral and print promotions.
The entire site was conceptualized, designed and built from scratch. We did everything from the design to architecting the application process and awarding points for participation. Through our information architecture phase we studied the user flow and hierarchy of information to ensure the user progresses through the site smoothly. The site is constructed to withstand a 3-5 year expansion so it can grow and include more features. There are 5 levels of user experience including: browsing, basic member, prominent member, elite member and admin. The site is content managed by the admin and the members. Members have the ability to edit their profile, add promotions, suggest events and more!
The home page starts off with a Flash animation to demonstrating the successful business relationships that members share. Some of the other pages you can access are the find a business page, promotions, benefits, preview a profile and events. The design embraces the puzzle theme with subtle hints throughout the pages. In addition, the entire site has a texture over it to give it a little softer look.
We invite you to apply for membership to R4S! The earlier you join, the higher ranking your business will receive. Then invite other trusted businesses to get ranked even higher! If your business is interested in applying let us know. We can send out some referral codes. www.referrals4success.com
Below are some screen shots of the site you can see or visit the site. Please post a comment to let us know what you think.
This is a screen shot of the home page design. The home top banner graphic is in flash so it is hard to appreciate it without the animation. Visit the site to see it in action!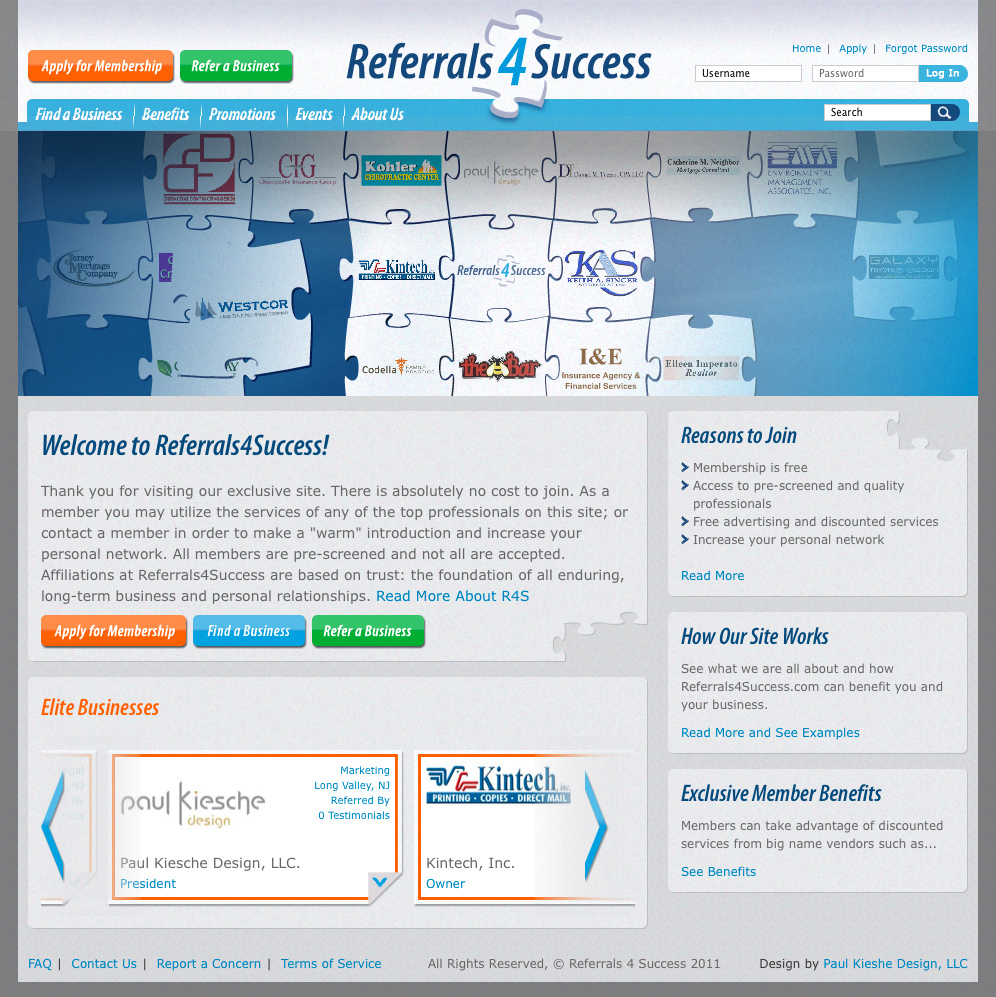 This is the find page where you can search business profiles.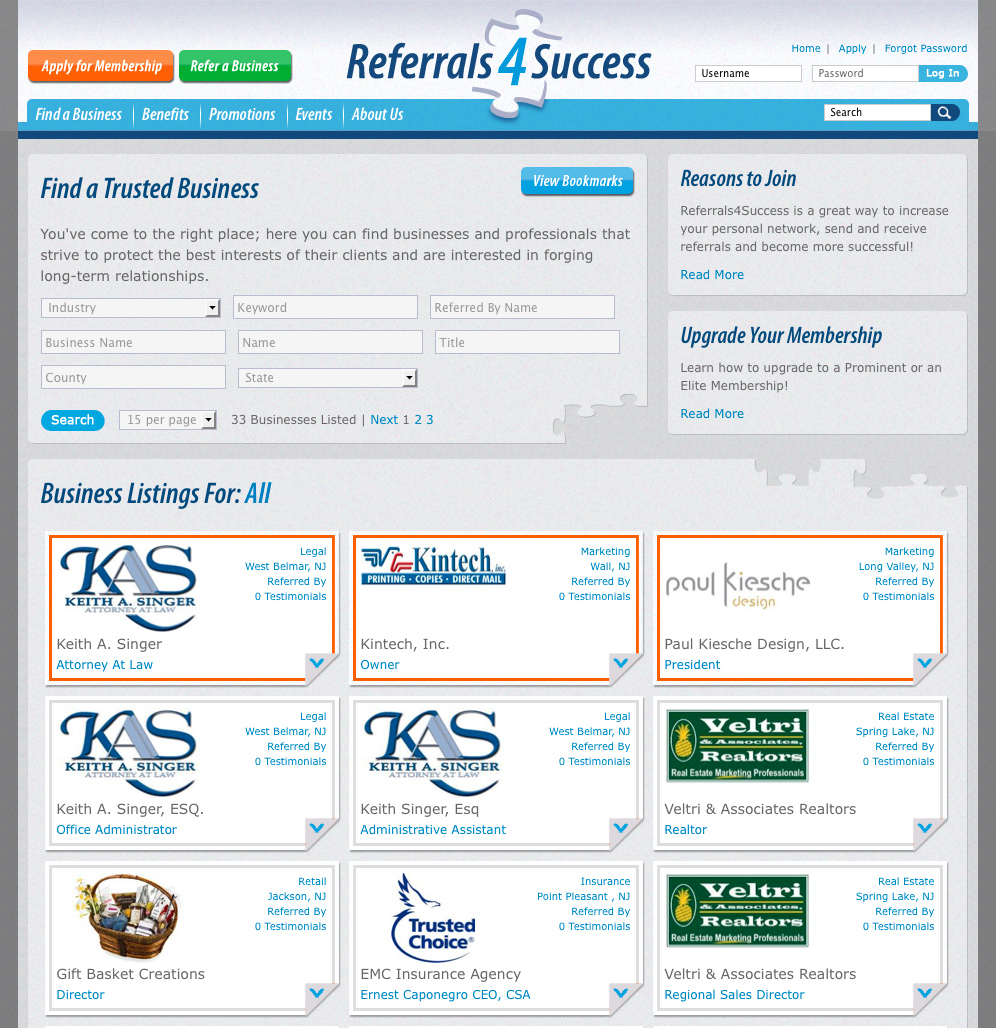 After you click a profile card a profile pops up that looks like this. It includes tabs for general info, about, testimonials and email.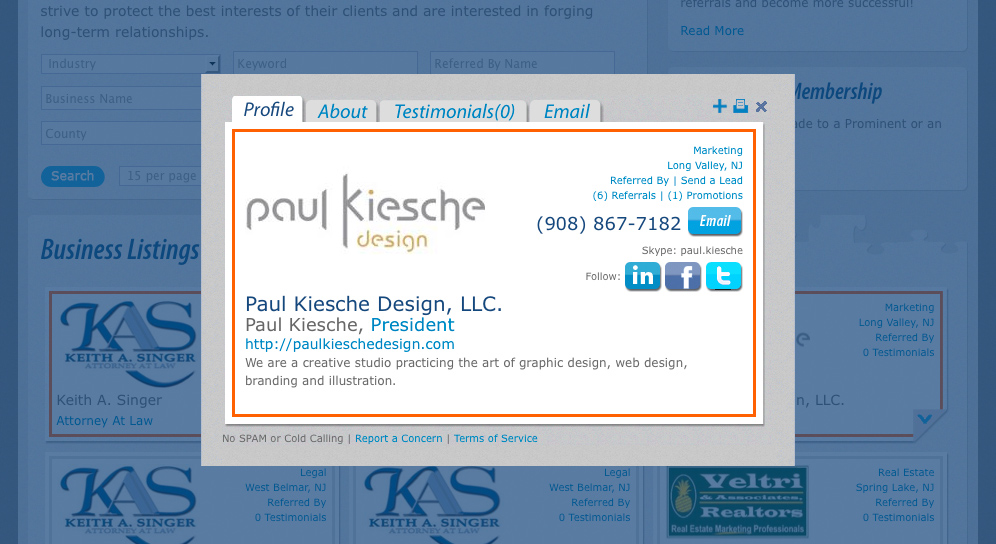 The application process is quite unique for this site, which makes it an exclusive community of trusted businesses.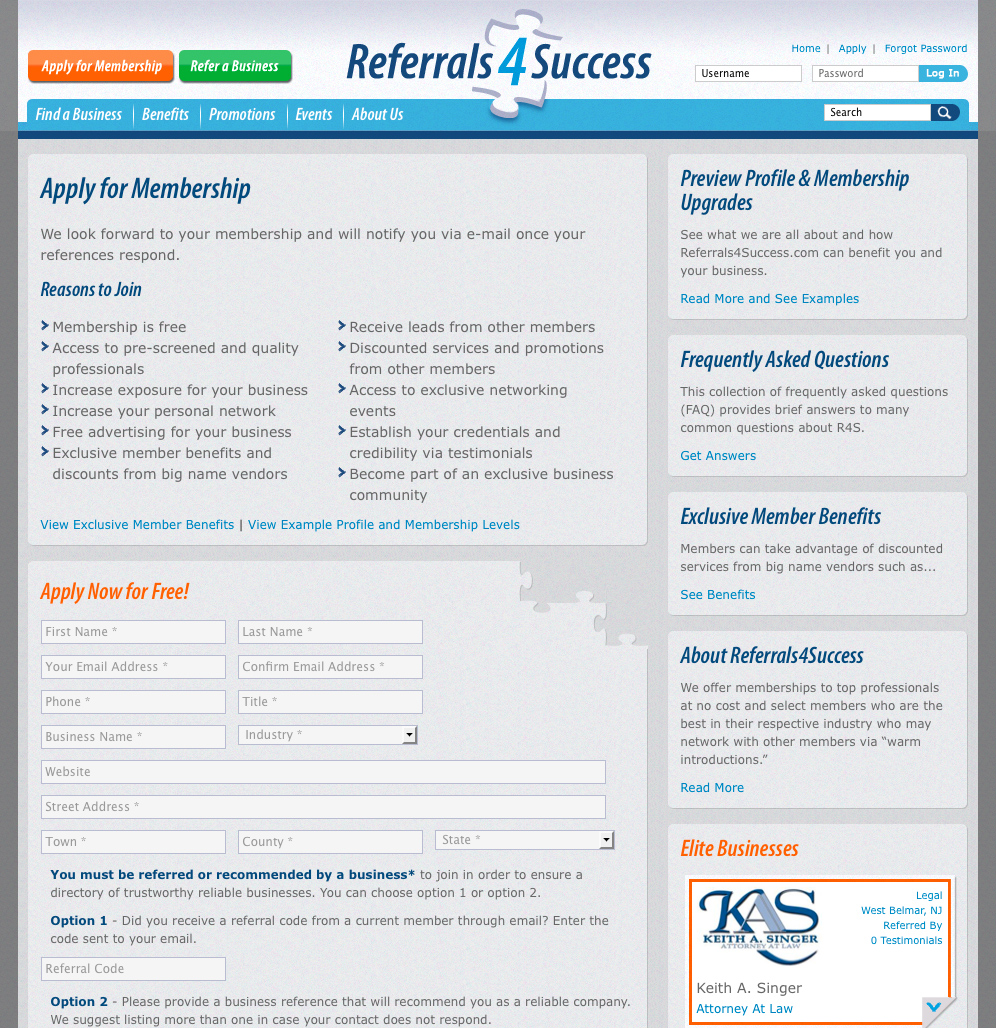 As a member you have a dashboard area where you can change and post your information. Here is a secret look at the admin panel, which has more features and abilities than your standard member.