We had such a blast developing a new logo for the Flocktown-Kossman School and PTA's Spirit Wear apparel. When the Parent-Teacher Association for a local elementary school wanted a logo that would include wolves, they came to us. The attitude of the illustration was a challenge. We had to make sure the wolves weren't too cartoonish. The logo needed to be edgy enough for older kids yet fun and not too fierce for younger kids. We're delighted that both the PTA and school agree we hit the mark!
Our goal was to create a timeless look in hopes that the school will use the logo far into the future. Right now, it's being printed on blue and gray T-shirts just in time for the start of school. They're going to annouce it with a big party! The PTA plans to use the logo on banners, school collateral and more. You can also find the Flocktown-Kossman Wolves logo on the school website. We loved working with the PTA and of course it always feels great to help the Long Valley community with what we do best!
This logo intertwines both custom illustration and custom typography. The illustration was hand drawn, then recreated digitally in Adobe Illustrator. Check it out and comment below to let us know what you think.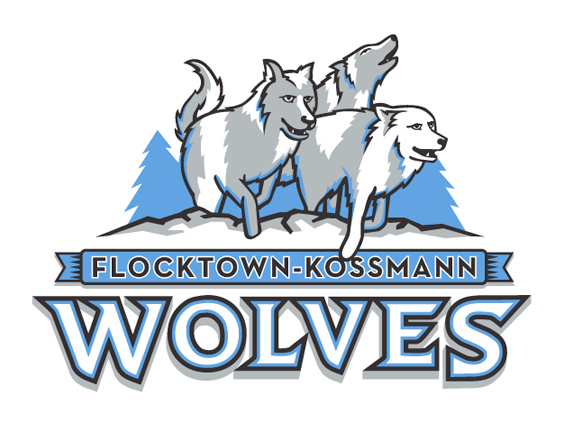 Below is an example of how the logo looks on an ash gray shirt and a blue shirt.