We recently designed business cards for The Marketing Dinner Club and wanted to show off the new design. Then we realized we were well overdue in introducing the group on our blog. If you are in marketing, you should definitely check it out!
Back in 2009, Paul organized a dinner event for marketing professionals within the New Jersey Young Professionals. The dinner had a great turnout and was a huge hit. So, Paul planned more dinners and each time it grew. However, because the dinners were part of NJYP, it was always limited by age restrictions. So eventually, Paul broke the group out of NJYP and founded The Marketing Dinner Club. The group started quickly growing. Today, there are more than 170+ members and three volunteer Co-hosts! The Marketing Dinner Club meets every other month at fabulous restaurants throughout New Jersey and has expanded its palate to include some less mainstream international cuisines.
If you work in marketing and love to try new restaurants, be sure to join The Marketing Dinner Club at the next networking dinner! It's the perfect opportunity to make new business friends and catch up with folks you haven't seen in a while. Check out the LinkedIn Group, and Facebook page.
Paul Kiesche Design designed the group's logo, business cards and web graphics. In an effort to compliment the shape of the logo and to create a little more of an impression, the cards were trimmed at 3.5″ x 1″. We are also currently in the process of designing a small site for the group.
Below is the logo, business card and Eventbrite Header we designed for the organization.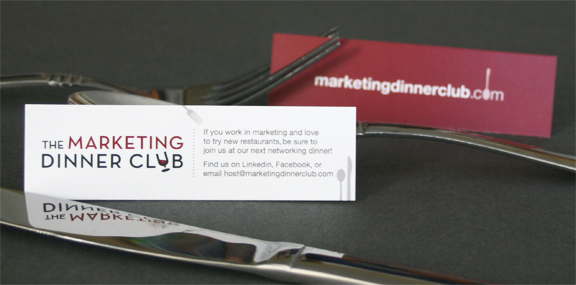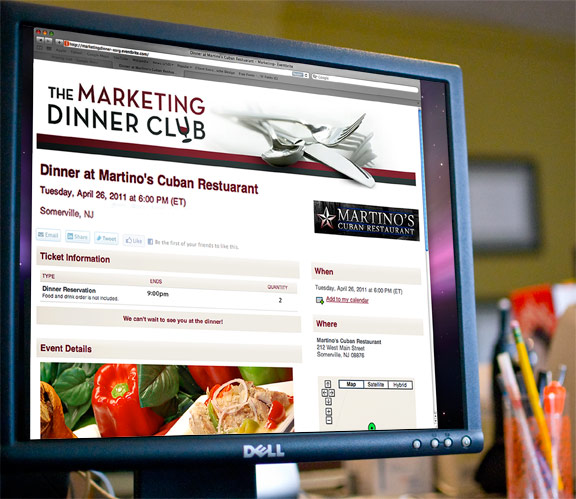 2 Responses to "The Marketing Dinner Club"