Many blogs and social media status updates for professionals and businesses are filled with venting, personal problems and negative attitudes. Sometimes it's like reading a personal diary. These posts set an impression on their audience and even potential clients. They also open the individual up to criticism from the entire world. Are these individuals looking for help, for pity, for shock value, or do they just want to show a more humanistic vulnerable side to their business? We want to know what the positives and negatives are in relation to marketing your brand.
We called in a friend, Dr. Kevin, Psychologist to young professionals to give his expert advice. Dr. Kevin Brennan is a licensed clinical psychologist who concentrates on helping young professionals to cope with the issues specific to new generational topics that did not exist before (in this case, the digital self). He even helps with business consulting, so we thought he'd be perfect to chime in.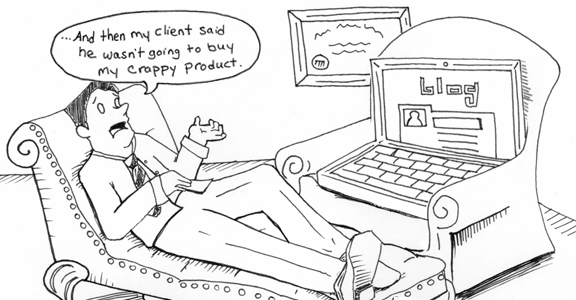 PKD: Dr. Kevin, what do you believe individuals are trying to get out of these negative posts?
Dr. K: I don't think they are doing it "for" their business, but rather are capitalizing on an audience for personal reasons.  Most people that post TMI are looking for support and validation.  They seem to be calling for someone in their audience to give them additional encouragement and cheerleading.  Unfortunately, I think it backfires because commenters often give advice on how to fix a situation, not actual emotional support.  The reason they give advice (just like in face to face interactions) is because they don't want to be brought down by the poster.
PKD: Is posting this kind of content a healthy activity?
Dr. K: There are many shy folks out there, and if they find the less in-your-face forum of the digital space easier to express themselves, then it can be a very healthy thing. I have witnessed wallflowers bloom in the digital space in positive directions when they post positive content (like art or poetry).  I have also witnessed people whom no one knew was struggling reach out for help and get it!  But then there are posters that ask for too much, and take too much, too often from the good will of their audience.  They are consistent complainers, addicted perhaps to the rush of exposure.
PKD: Why do you think this is happening on business posts?
Dr. K: Three things may be going on here:
Most Facebook business pages start as a grassroots endeavor.  FB is partly to blame because to get an audience for your FB marketing, it only allows you to suggest your page to your "friends".  So people usually launch their professional persona to their friends and family first.  My mother likes to say "I'm proud of you sonny" to my greater professional achievements when I post them on my own FB fan page!  So I think part of the issue is that the personal face of one's business is in conflict with the professional one in that they do not want to alienate their primary supporters.

Aside from a "storefront," business owners and marketers need to fill it up with interactive content that generates activity, interest, and thus exposure.  But many business models are not as easy to promote "lively chatter" as say, a psychologist who can talk for days about topics related to young professionals!  So many feel compelled to fill the white space with opinions.

It costs SO LITTLE in the form of time and/or money to "start a business" via social media that the relative ease and low risk of the endeavor engender an informality in one's business.  It used to be that businesses needed a "business plan", and capital, and a mission statement, and some tightly crossed fingers to launch.  But now anyone can open a storefront in about 2 minutes with zero cost.
PKD: Do you think this is a good representation of their company and how might this affect their business?
Dr. K: Personal opinions are good for business exposure if they relate to your product (e.g. an "eco" related company posting about energy conservation) because it helps develop your target audience and build a more emotional connection with potential customers.  Also, generating an exciting discussion is really the goal of any blog or social media site for exposure.  When it gets irrelevant, it becomes too much and hurts the business.  (e.g. an accounting firm posting about energy conservation) Also, if opinionated posts become emotional (angry, bitter, depressed) or appear as if the speaker has lost personal control, then this can only hurt the credibility of the site and the business.  A general rule is if you can't keep your cool on a subject, it does not belong in your social media or professional blog. If you choose to post touchy subjects you must remember that while YOU are bound by professionalism, your readers (and commenters) are not.
PKD: It's certainly a risk to put your business at the mercy of social media. What should writers consider when writing a post?
DrK: These are a few of the things I would recommend considering:
Be honest, if you don't have the skill set to navigate through rough waters, stick to informative, product-related material, not touchy subject material.

Consider that you are no longer "you" when writing in a business page. You are now the representative of your brand.  So when you post, represent your brand to the best of your ability, not yourself. Take it SERIOUSLY.

Think of your goals.  What you want from a post is a) brand building, b) word of mouth, and c) SEO in the form of media activity on your site or page.  So, gear your posts toward that.
PKD: Is it possible for you to hypnotize our readers?
Dr. K: I already have.  MUAH HA HA HAAA!
PKD: Nice! Do you think negative posting affects the connections made between the writer and readers?
Dr. K: Making personal, emotional connections with readers is key to branding, but not at the cost of losing brand respect.  Readers don't take emotional outbursts, arguing, or censorship seriously, so you will lose them as customers for sure.
PKD: What are your thoughts on anonymous comments and reviews from readers who are not held accountable for their comments?
Dr. K: I think there is no such thing as accountability in digital space.  You rarely see these people in person, so what's the point of knowing their name?  It is also the most useful tool to finding out what people really think, which is worth it.  Additionally I find that a free space tends to curb posting TMI in the long run.
PKD: Thank you Dr. Kevin, you truly grasp the values and disadvantages in utilizing social media as a business professional.
For more of Dr. Kevin's extensive expertise, visit his website at www.DrKevinB.com.
Illustration by Jenna Familletti, PKD Designer