Wells Media Group, Inc. just commissioned us to create an illustration for the cover of their trade magazine, Insurance Journal. This was actually their satire issue filled with funny stories, weird claims and wacky ad contest. The premise behind this illustration got our whole team thinking about what many of us imagine to be the future of cars and, in turn,car insurance. The interesting thing is that what many perceive as the future of automobiles is really happening now. This futuristic illustration demonstrates, in a fun way, how cars are on the path to practically driving themselves with sensors which make them basically indestructible and invulnerable to everyday driving hazards. So, the writers of Insurance Journal had fun forecasting that the modernization of cars will ultimately cause the car insurance industry to experience drastic changes. This magazine cover was really fun to create as we brought to life this sapphire city, self-driven cars and carefree passengers.
Even though we were dealing with a very short deadline, the piece was painted in acrylic on illustration board and then digitally enhanced. This was to play off the look of past Popular Mechanics covers from the 40s and 50s.
You can download the magazine from their site for free here.
Here's an image of the cover and an inside spread of the article.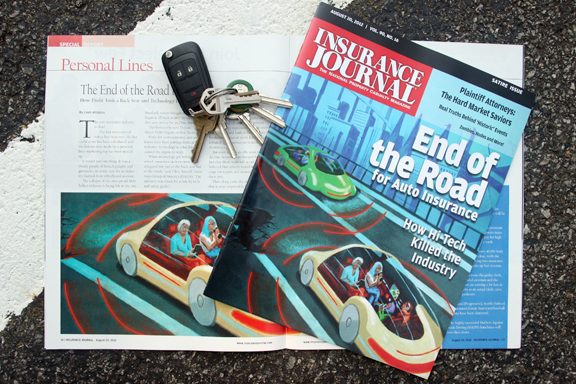 Below is the cover a little larger.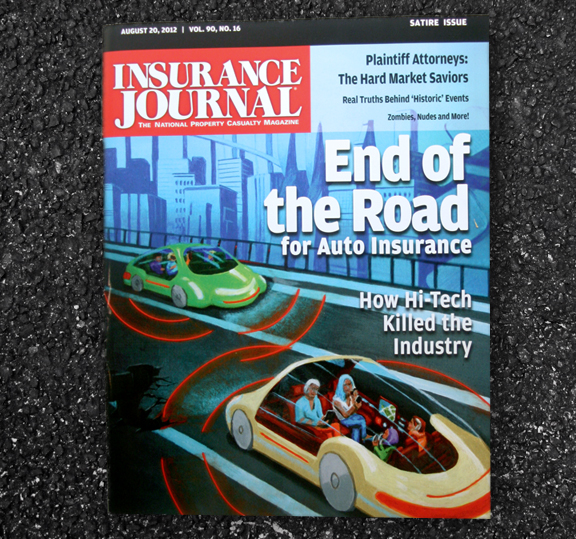 2 Responses to "No Gigawatts Necessary…"