For 10 years Chester NJ has held one of the best car shows in the Morris County area. For the second year in a row, we were asked to illustrate and design the promotions for the Cruise'n Shop Car Show. Being fans of classics and hot rods ourselves, we were excited to take the project on again.
At the same time, we designed the long-running 37th Annual Chester Fall Craft Show. I think the results speak (blog?) for themselves.
Inspired by classic car ads from the 40's, 50's and 60's, the Cruise'n Shop poster evokes the bold, exciting feel of the classics, customs and much more that will line Chester's Main Street on August 1st. Take a good look below.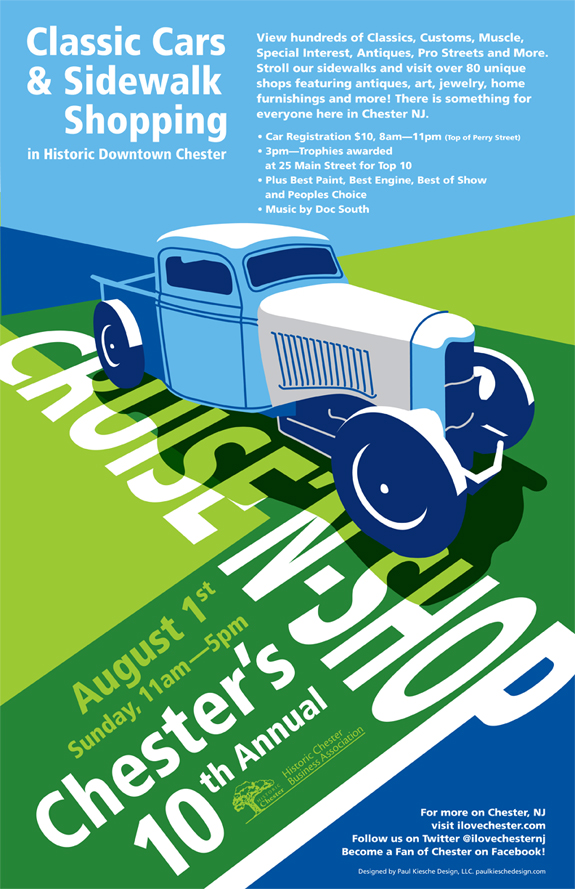 For the 37th Annual Fall Craft Show, we drew inspiration from the rows of white craft tents that line the Municipal Field in Downtown Chester, idyllically surrounded by the changing foliage and historic buildings. The main headline type was hand drawn in the style of a wood-cut grain pattern to lean to the craftsmanship element of the show.
The posters are already lining the streets of Chester, so if you want a better look head on over to Main Street Chester NJ!
One Response to "Taking it to the Streets… of Chester."