When Aquarius Wellness, a Missouri-based therapeutic spa turned to PKD to create their branding, it became apparent that we have common passions: high quality services and a clean environment. Aquarius Wellness is an environmentally conscious center for the healing arts that provides a multitude of therapeutic spa services. Aquarius Wellness relied on us to create a cohesive, inspiring, identifiable and timeless brand image and collateral package that would accurately reflect their vision and commitment to the environment. In fact, all stationery noted below was created using environmentally recycled stock that is green seal certified and was all printed using soy bean based ink (that you could eat!). There was no chemistry or film used in the printing process as the plates are ripped digitally. All pieces were printed four color off-set on 110# Royal Sundance Cover Ultra White stock with a felt texture (watercolor paper).
To kick things off, PKD designed a fresh watercolor styled logo that helped portray serenity and calmness – which is precisely what Aquarius Wellness offers you. The logo became the visual cornerstone of each of the subsequent branding deliverables that followed.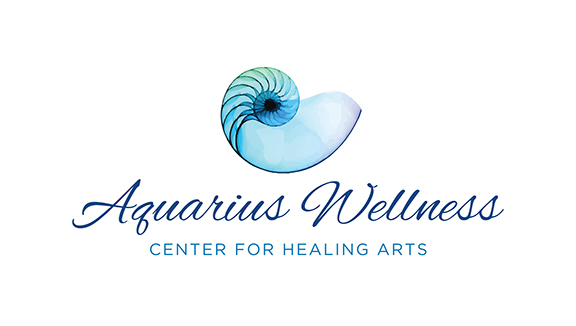 Next, PKD designed and printed business cards, appointment-setting cards, letterhead and envelopes, which would be used for various business engagements and communications. The cards were sized at 3.5″ x 2″ and printed two-sided. The cards were then trimmed with 1/4″ rounded corners.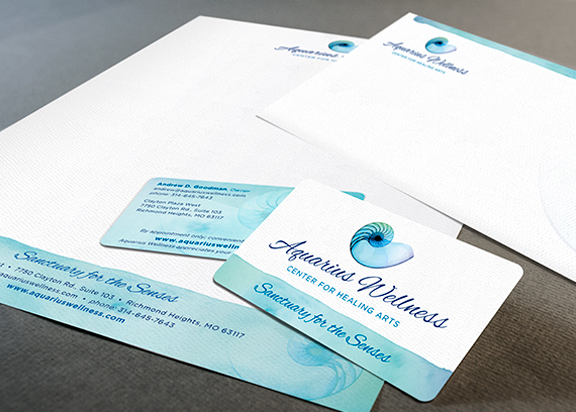 In an effort to express gratitude and further strengthen brand loyalty among its existing and prospective clients, Aquarius Wellness had PKD design and print "Thank You" cards, corresponding envelopes and gift cards.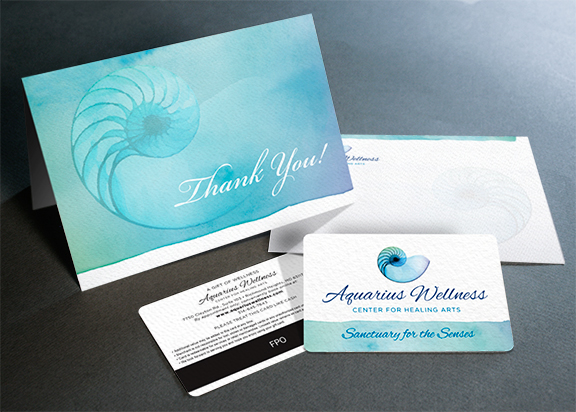 In addition, PKD designed and printed a large format banner for an expo booth and an adhesive fish bowl label for a fun give-away promotion to collect business cards.
This entire branding package has given Aquarius Wellness the identity, image, and promotional lift they needed to put them on the path to success. We're extremely proud and honored to have been part of this experience, and look forward to further supporting Aquarius Wellness's efforts and environmental initiatives.
As always, we'd love to hear your thoughts and opinions on our latest designs.
2 Responses to "Branding Aquarius Wellness"