I keep hearing the question "What do you think of the new Gap logo?" This topic is pretty hot with the graphic design community right now. The majority of the reactions I've seen is very bad. I think when a graphic designer sees an opportunity to reinvent a strong brand such as the Gap they get jealous of the chosen designer. Then when the brand is so poorly represented with obvious bad design, designers get upset and outraged. I've seen designers so annoyed that they redesigned their own version just to prove they can do better.
Being a designer, design firm owner and a professor of design, I find the whole thing very interesting. In fact I asked my class about it and it stirred up a ton of conversation. The designer in me wishes I had the chance to design a logo for Gap, Inc. I feel that it doesn't fit the brand at all. Way too corporate, generic and boring to me. I'm surprised by the font choice to go with simple Helvetica and the small gradient box. I don't have a problem with refreshing the brand, but they should have pushed it further.
Design is a funny thing and in a bad economy clients win the argument, so I blame the company more than the designer. However, the design company should have never even presented this as an option.
The one thing I get annoyed with is how much attention the Gap is getting for it. I guess even bad press is good publicity. I doubt people will stop shopping there because they don't like the logo, and I doubt many designers shop their now. Who knows… perhaps they will pull a Tropicana and revert back to their old brand.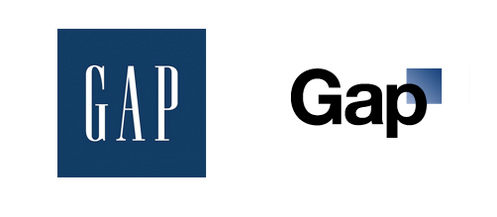 Share this post:
Tweet
3 Responses to "Gap Going Backwards"