My client, Mark asked me if I could create a storybook, which included writing it, illustrating it and designing it. I was thrilled to take on the project as this was no ordinary storybook! What made it even more interesting is, he was creating it to help aid in his proposal to his girlfriend Patricia. Mark came up with the clever and romantic idea to ask her to marry him through a storybook.
I thought it was funny in the beginning of the project when I sent Mark my proposal to do the work and titled it Proposal. As dumb as it sounds now, it didn't occur to me at the time that Proposal would be a bad thing for Patricia to see in his email. Thankfully, she didn't see the email and it didn't ruin the surprise.
I interviewed Mark and heard some wonderful stories about their life together. There was so much he wanted to fit into the book as he was so excited to share their adventures! The book is a fun, romantic and emotional story of how they met, their first date, their first kiss, and more. The book, like life is orchestrated to touch many emotions as it shares some romantic moments, some funny moments and even some sad moments in their life together. Then, at the end of the book Mark planned to propose to Patricia. The whole thing was very exciting.
After interviewing Mark, the project began with writing an original poem to tell the story in a traditional storybook manner. Here is a page from the book…
"Although it felt like forever,
It was only the Tuesday after,
When we went to Rod's Steakhouse,
For our second endeavor.
I made reservations for the train car,
And we ordered steaks that night.
When I saw what you ordered,
I said "This girl's my type!"
We didn't want the evening to end,
But that was just a wish,
And that's when it happened,
We had our first kiss."
This is the illustration that accompanied this part of the story.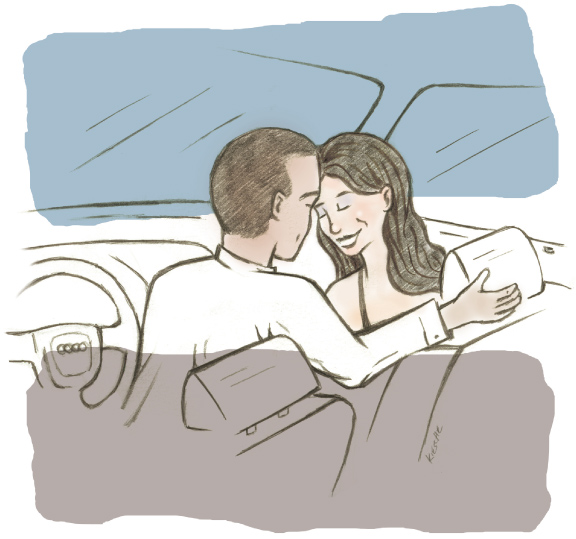 Share this post:
Tweet
The book was illustrated in pencil and digitally colored in Photoshop. We printed the book as a one off through Blurb, which is usually used for wedding albums.
I wanted to share the end of the story as Mark got down on one knee to propose.
"This short story can't share,
All that I want to tell.
About the girl of my dreams,
And how in love I fell.
The rest is yet to be written,
So please share this life with me.
Help me write the next chapter,
As my beautiful bride to be."
And she said YES!
So congratulations to Mark and Patricia! I'm very excited for the two of you.
The book has an image wrap hard cover and is sized at 7″x7″. I took some quick shots of the book. Sorry they are a bit blurry. I didn't have it for long and I couldn't open it too much as I wanted to keep it in perfectly new condition.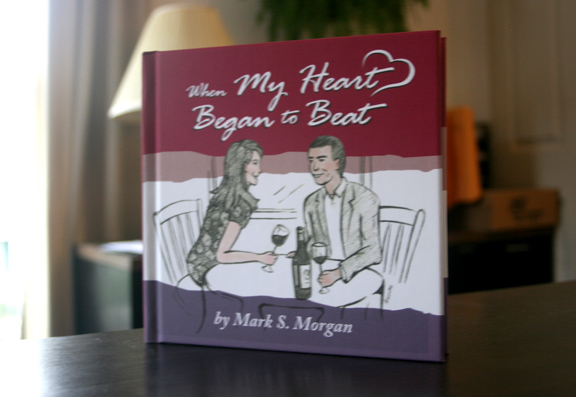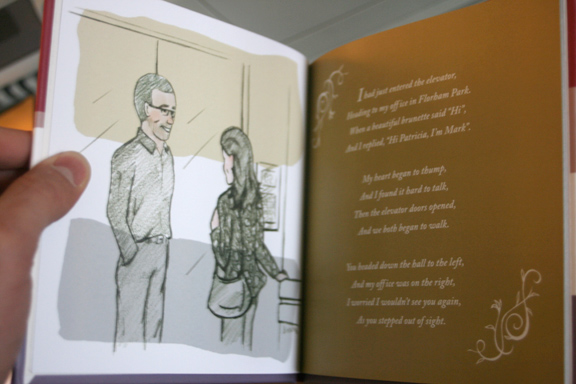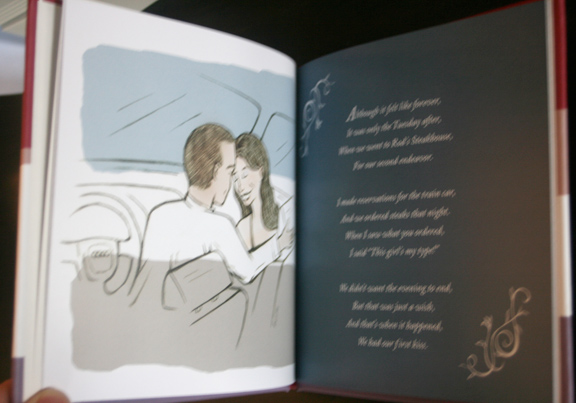 I hope you enjoyed this story as much as I did. Please comment below and let me know what you think of the book.
Share this post:
Tweet
8 Responses to "Storybook Love"