Guess who designed this year's MarCom event graphics! We had the honor of representing this great event with our design, illustration and concept. NJ MarCom Joint Holiday Networking Event is the combination of 11 marketing, creative and public relations organizations getting together for one big night.The event typically has  over 200 companies attend represented by up to 420 industry-leading professionals and is the largest event of it's kind in NJ. The event brings together marketing, design, illustration, communications, advertising, video, photography, printing, copywriting, PR, and online resources in NJ.
Here is the front of the postcard & graphic.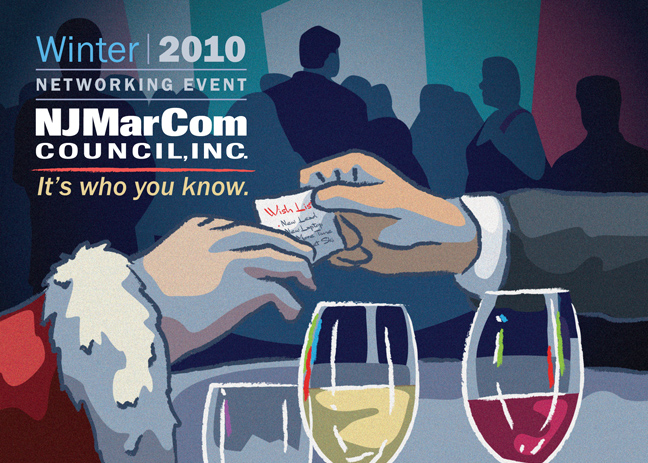 Here is a view at the back of the card.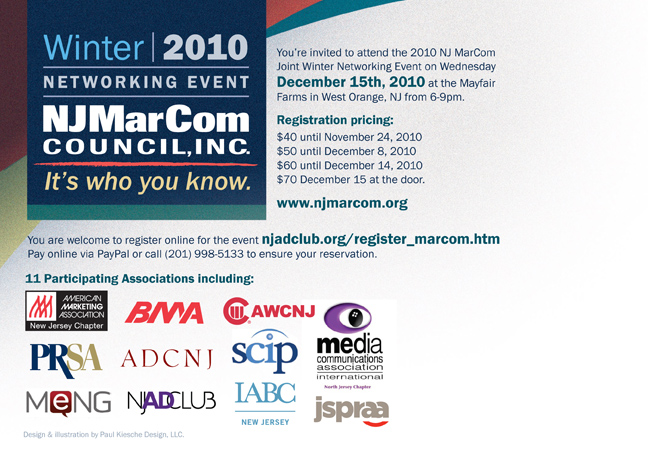 We had fun coming up with the concept, "it's who you know". Kris Kringle would be a good person to know, but who is giving and who is getting the wish list?
We designed the graphics and illustrated the main image. The illustration was hand drawn, then created in Adobe Illustrator. Then it was brought into Photoshop for a little effects.
I'd love to know what you think of the graphics, please comment below.
The 2010 NJ MarCom Joint Holiday Networking Event is Wednesday, December 15, 2010 at the Mayfair Farms in West Orange, NJ from 6-9pm. You can register here if you plan to attend. Here's more info on the event. I hope you can attend!
Share this post:
Tweet